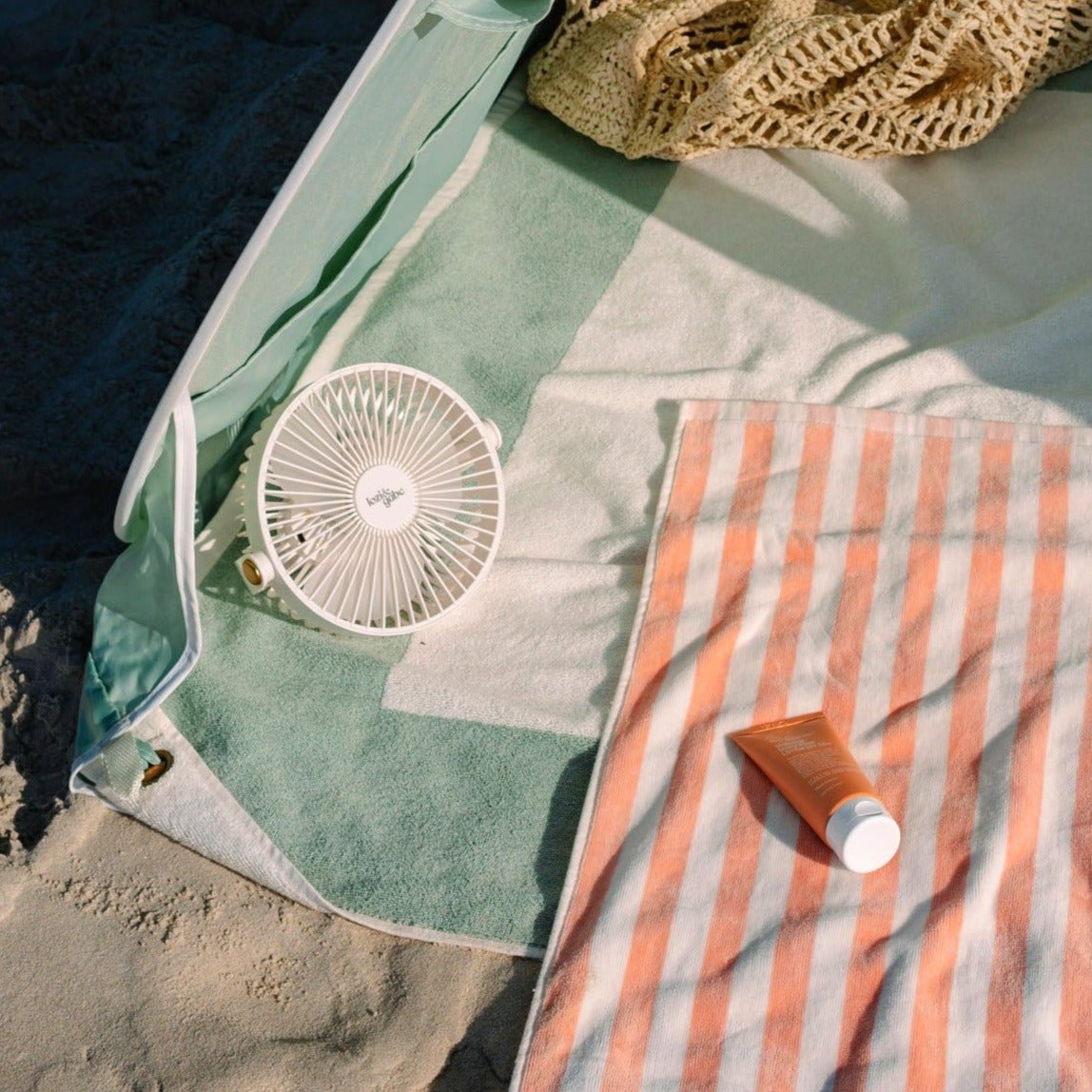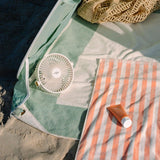 Why we made this

This portable fan was designed to help them keep their cool (while also helping you keep yours). With a sturdy loop that attaches to the inner ceiling of the pop-up tent, clip it in and breathe easier knowing that cool air is on the way. It's also USB chargeable, meaning zero stress if you forget to charge it at home. Which, for us, happens a lot.

Features:
– Portable, USB-chargeable fan
– Vegan leather loop to hang from the ceiling of the pop-up tent
– 3-4 hours of cool air flow (when fully charged)
– Three adjustable fan speeds
– Built-in light with two brightness options
– Sleek, minimal design

Measurements

– Size: 190 x 180 x 70mm
– Weight: 386g
– Battery charge: 2400mAh
– Voltage & currency: 5V/1V
– Power: 4W
Shipping & Delivery

Once we've received your order, we'll work to get it shipped within 3 business days and drop you an email once it's on the way. Since we're a small business, getting your order ready might take a little longer (up to 7 days) during busier sales periods.

Once it's been shipped, you can expect to receive your order within 3-7 business days with standard tracked shipping (Australia-wide).

That said, life is unpredictable and delivery times aren't always guaranteed. As women who don't love to wait, we promise we'll do everything in our power to get you your purchase as soon as we can.

FYI: We're also working on finding a reliable and affordable way to ship internationally, and will be going global the minute we do.
Taking Care

A few things we know you know, but need to say anyways:

– No little ones should ever be left unattended with the fan or be left to play with it (even when you're there).
– Don't leave the fan charging overnight or for extended periods of time.
– Skip trying to modify or fix the fan yourself. If you have any issues, drop us an email letting us know instead.
How To Use

– Fan button: Click once for Speed 1, twice for Speed 2, three times for Speed 3 and four times to turn off.

– Light button: Click once for soft light, twice for brighter light and three times to turn off.

– Charge light: When connected to power, the red light will turn on when the fan is charging. The light will turn off once the fan is fully charged.
Made responsibly in small batches.

Tent fitted
Fastens to the ceiling of the Pop-up Tent with a secure leather loop.

Adjustable airflow
3-4 hours of cool air at the speed of your choice.

Minimal & Mobile
Lightweight, portable design you can charge-on-the-go.
"

The perfect little fan. Love that it helps keep my newborn cool inside the tent on hotter days.

"
"

Got this as a gift to go with my new tent. Love that I can charge it on the go.

"
"

Happy with this! The way it attaches to the roof of the tent is such a nice touch.

"